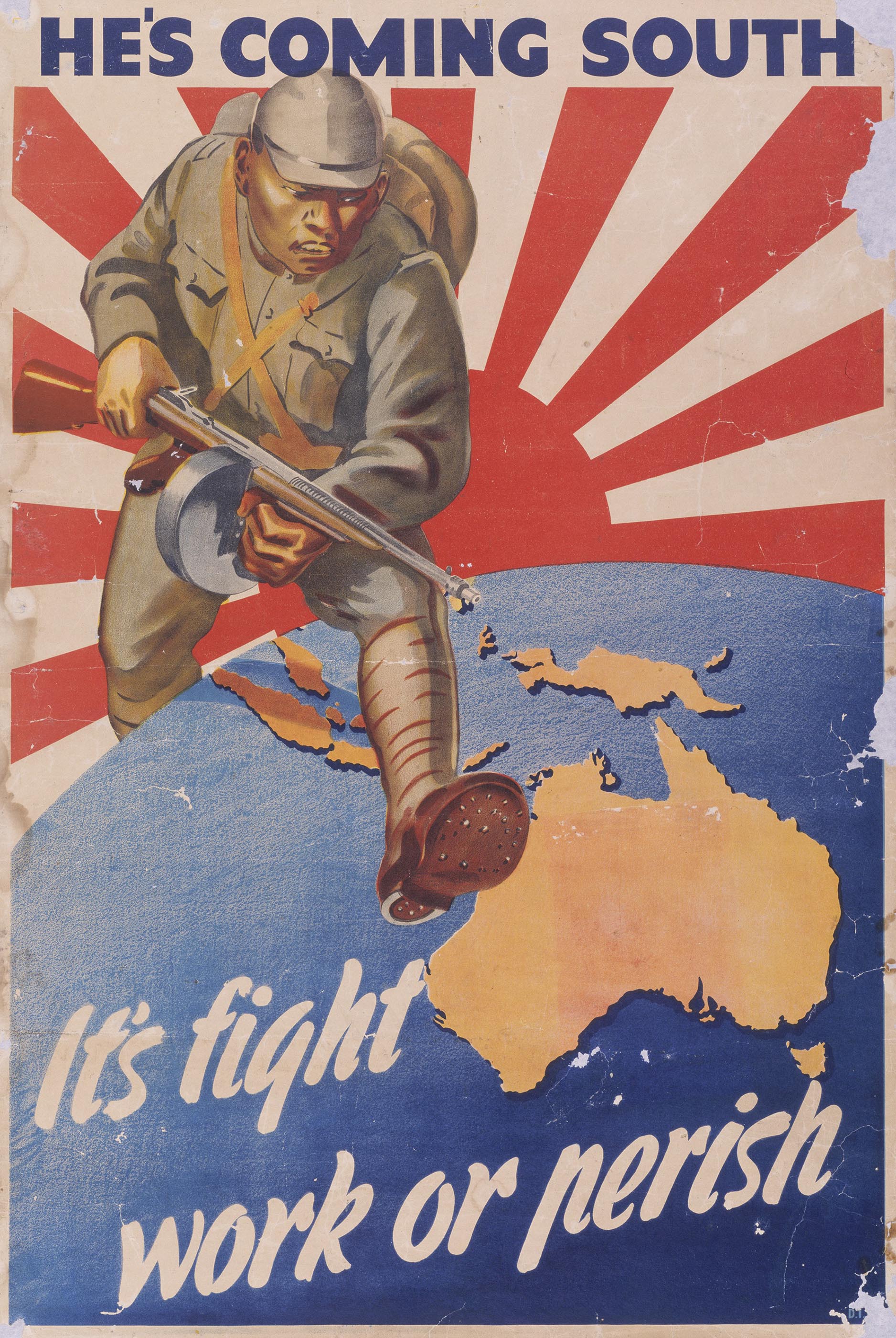 Source: National Museum of Australia
World War II was a war of propaganda, with all sides using propaganda to demonise their enemies, justify their actions, hide their war crimes, raise morale, encourage men to enlist and get support from the homefront. Read through the resources below to learn more about propaganda in World War II.
---
This website looks at propaganda in Germany, Britain and the United States during World War II.
---
The Nazis effectively used propaganda to win the support of millions of Germans in a democracy and, later in a dictatorship, to facilitate persecution, war, and ultimately genocide. The stereotypes and images found in Nazi propaganda were not new, but were already familiar to their intended audience. Read through this article to learn more.
---
During World War II, the US government waged a constant battle for the hearts and minds of the public. "Rosie the Riveter" and many other wartime propaganda posters remain relevant 75 years later. Read through this article to learn more.
---
Read through this website to learn more about propaganda during World War II.
---
Throughout Australia's military history, recruitment posters have been used to persuade men and women to join one of the wartime services. Images and stories of nurses have been successful in influencing Australian society during times of war. Read through this PDF to learn more about how propaganda influenced Australian recruitment during World War II.
---
As Japan conquered more territory from the 1930s, and as World War Two grew in scale following the attack on Pearl Harbor in 1941, propaganda efforts across Japanese-controlled East Asian territories became more important. Here, Maddison Nichol follows up on his article on Nazi World War Two propaganda (here), and explains the importance of race and anti-Western ideology in the promotion of Japan's East Asian Co-Prosperity Sphere.
---
When thousands of Wisconsin soldiers, part of the 32nd "Red Arrow" Infantry Division, arrived in Australia in May 1942, they inadvertently created an opportunity for Japanese propagandists to attack the morale of Australian troops and attempt to sow discord and distrust among the Allied forces in the Pacific Theater. A colorful collection of Japanese propaganda leaflets brought home by Wisconsin World War II veteran Sterling Schallert reveals a surprising theme of focus in this fascinating but little known aspect to the War in the Pacific. Read through this article to learn more.
---
Images created in times of war reveal the tensions and fears ignited by the conflicts between nations. Read through this article to see how racism is used by countries in wartime propaganda.
---
Seventy-four years ago, as Darwin reeled from the largest single attack mounted on Australian soil, a wave of fear about an imminent invasion by Japanese forces swept the Top End. But away from the bombings and battlefields of World War II, another sort of battle was taking place over people's hearts, minds and morale. Read through this article to learn about Japanese propaganda during WWII.